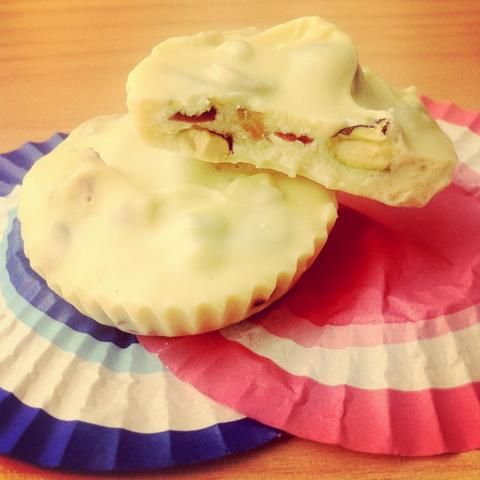 Now, who does not love some super easy, super cute, and super tasty little treats that are sure to go down well?
The best part about these is that I see them as totally healthy. Sure, the larger portion of ingredients is white chocolate, but the cranberries and pistachios each come with several health benefits that you just cannot help but feel you are doing yourself a favour by eating several of them!
The red and green colours that the cranberries and pistachios provide make this a vibrant and festive snack that is particularly suited to the Christmas period, but can be enjoyed throughout the year.
This is a versatile recipe and the end result is entirely up to whatever you fancy. Now, how about that? (1 cup = 1 US cup)
600g / 17.6 oz quality white chocolate (I always use Whittaker's)
1 cup / 120g / 4.2 oz dried cranberries
1 cup / 125g / 4.4 oz pistachios, shelled and peeled
zest of a lemon (optional)
Place the chocolate in a large bowl over a pot of gently simmering water, and allow to melt.
Once melted, stir in the remaining ingredients and fold to combine.
Before the chocolate starts to cool too much, spoon desired amounts of the mixture into cupcake cases and allow to cool to room temperature before placing in the fridge.
Although the cupcake cases make for cute individual treats, this recipe also makes for great chocolate bark. Instead of pouring into cupcake cases, simply pour the mixture into a prepared slice tin and allow to cool before placing in the fridge to set. Once it has set, simply cut with a sharp knife and voila! Festive bark that everyone is sure to enjoy.