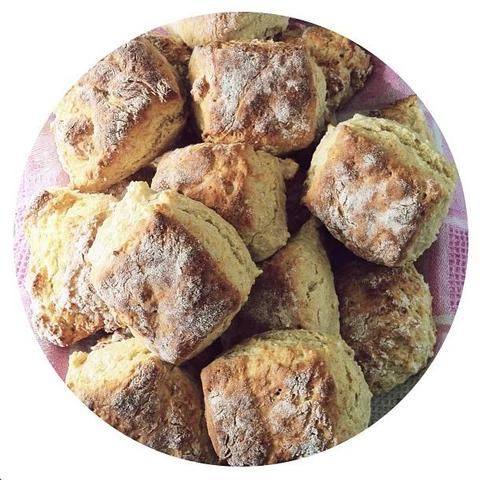 As we all know, it was Mother's Day this past Sunday.
Did you do anything special for your mother?
I took the Friday off work and travelled 8 hours on a bus to visit home and surprise Mum. I couldn't remember the last time we had spent a Mother's Day together  so I thought it was high time I changed that. I love my Mum to bits; without her I wouldn't have such a passion for (or knowledge of) baking, and so you can probably imagine my excitement at the chance of getting to bake with her over the weekend.
After making her breakfast in bed, we got up on Sunday and quickly whipped these scones up for morning tea. With only five ingredients, these scones are super simple yet so delicious… especially when served fresh with homemade jam and dollops of whipped cream. There really is no other way to have them! (Note: 1 cup = 1 US cup)
4 cups / 500g / 17.6 oz plain flour
8 tsp baking powder
½ tsp salt
300mL bottle of cream
355mL can of lemonade
Sift the flour and baking powder into a large bowl. Add the salt and mix gently into the flour.
Using a knife, make a well in the middle of the ingredients before pouring in the cream and lemonade.
Mix the ingredients with a knife until the dough comes together.
Tip the dough onto a well-floured benchtop, generously sprinkle flour on top of the dough, and pat the dough out to a rectangular shape.
Cut out square/round/triangular portions and place them evenly on a baking tray.
Bake 220C / 430F for 10-15 minutes or until the scones are golden brown and cooked through.
Allow to cool slightly on a fresh tea towel before serving warm with jam/cream/butter/whatever you desire!