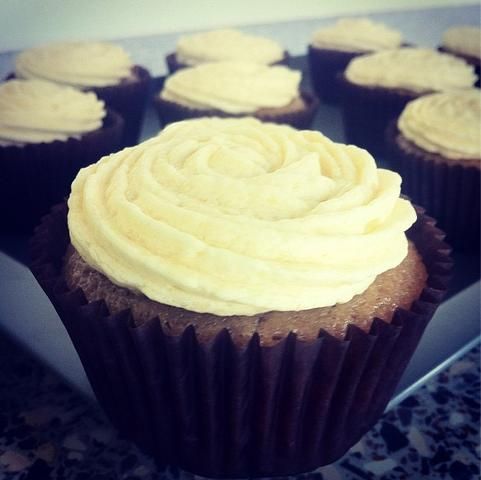 The other day I had decided upon baking some nectarine and brown sugar cupcakes however, upon closer examination, one nectarine had decided that he did not want to come to the party and so he spoiled it for the rest. In other words, it had gone off, started growing mould, and had shared its germs with the rest… and we all know that mouldy fruit does not make for good cupcakes.
When I went back to the fruit store a day or so later, I could not find any nectarines and so I settled for peaches instead. Although I would hardly call it 'settling'; peaches are equally delicious and provide that nice (yet sometimes off putting) fuzzy feeling. To me, they are kind of like the hairy uncle to nectarines. Your uncle might be hairy but at the end of the day he is still your uncle and you (hopefully) love him all the same.
The good thing about peaches and nectarines being so similar is that they can be used in a lot of the same recipes so this recipe will work for whichever you happen to have on hand. I took this recipe for brown sugar cupcakes, as posted by Jessica, and made a few adjustments to create a spiced and summery cupcake for everyone to enjoy.
The peach and nutmeg tango beautifully to create a soft, moist cupcake. They would make for great muffins when fresh out of the oven but are simply amazing when paired with a light and fluffy peach frosting. Just be careful, when it comes to eating deliciously fruity cupcakes, you feel way less guilty after eating two in one sitting. You have to make sure you get your 5+ a day, right? (Note: 1 cup = 1 US cup)
1½ cups / 188g / 6.6 0z plain flour
1½ tsp baking soda
¼ tsp salt
a pinch of nutmeg (or ½ tsp cinnamon if you would prefer)
1 cup / 200g / 7.0 oz loosely packed brown sugar
1 large egg
2 tsp vanilla extract
½ cup / 113g / 4.0 oz butter, melted and cooled
¾ cup /  177mL milk
⅔ cup roughly pureed peach (2 small-medium peaches)
Makes 12 cupcakes
In a medium bowl, sift together the flour, baking soda, salt, and nutmeg. Whisk to combine and set aside.
In a large bowl, beat together the brown sugar and egg.
Add the vanilla and the butter to the egg and whisk to combine.
Gradually add the flour mixture to the egg mixture, alternating with the milk and ending with the flour.
Whisk to combine before folding in the peach puree.
Divide evenly between a prepared muffin tray with paper liners.
Bake 180C / 350F for 15-20 minutes or until a skewer inserted into the centre of a cupcake comes out clean.
While cupcakes are cooling, prepare the frosting.
I decided on boiled buttercream as I love how soft and fluffy it is. I also feel less guilty after eating two frosted cupcakes knowing that there is less butter and no icing sugar involved. Totally worth the effort, if you ask me. This frosting is more creamy than it is peachy, but complements the cupcakes perfectly.
1 cup / 225g / 8.0 oz sugar
3 tbsp plain flour
1 cup / 237mL milk
3 tbsp cream
¾ cup / 170g / 6.0 oz butter
2 tsp vanilla essence
1 cup peach puree (3 small-medium peaches)
In a medium saucepan, add the flour and sugar and whisk to combine.
Stir in the milk and cream and bring to the boil over low-medium heat, stirring constantly, until the mixture is super thick.
Allow to cool to room temperature.
In a large bowl, beat the butter and peach puree until light and fluffy.
Pour in the thickened mixture and beat well.
Add in the vanilla essence and continue to beat until well combined.
If necessary, place in the fridge to thicken up the mixture or heat gently to thin it out.
Once frosting is combined and the desired consistency has been achieved, place into a piping bag and pipe away!