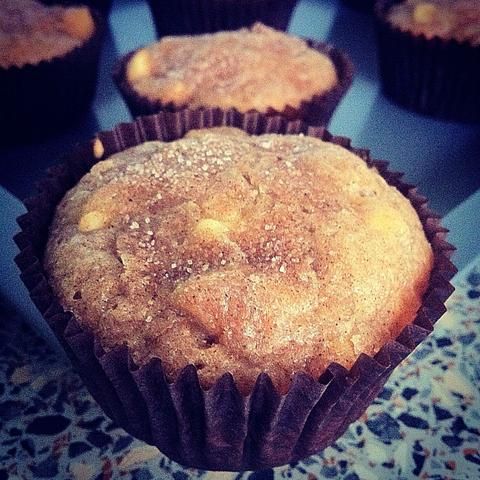 Bet I can guess what you are thinking!
Apple, cinnamon, AND white chocolate? Together? In a muffin? – I know.
But trust me, it works. I can say this confidently because I just made a batch and they are surprisingly delicious.  I have to admit that I probably would never have thought to try this combination myself, but I was commissioned by a friend to create these and we all know that the customer knows best, right?
For once, yes!
Apple and cinnamon is a classic muffin combination and it can be really hard to beat. I took this recipe from Baking Bites and adapted it slightly to satisfy the outlandish requirements. The white chocolate tangos perfectly with the tart apple and is subtle enough so that it can be tasted without clashing with the cinnamon. These muffins are best when warm from the oven as the apple and chocolate pieces are soft and melt deliciously in your mouth.
So what are you waiting for? (Note: 1 cup = 1 US cup)
2 cups / 250g / 8.8 oz plain flour
2 tsp baking powder
2 tsp ground cinnamon
½ tsp salt
1 large egg
¾ cup / 150g / 5.3 oz brown sugar
2 tbsp / 28g / 1 oz butter, melted
2 tbsp vegetable oil
1 tsp vanilla extract
1 cup / 237mL buttermilk
1½ cups diced apples, preferably granny smith
1 cup / 175g / 6.2 oz white chocolate drops
3 tbsp coarse sugar
½ tsp ground cinnamon
In a medium bowl, sift together the flour, baking powder, cinnamon, and salt. Whisk to combine and set aside.
In a large bowl, whisk the egg with the brown sugar.
Add the butter, oil, and vanilla essence. Beat to combine.
Gradually add the flour mixture, alternating with the milk and ending with the flour.
Stir until just combined before folding in the apple and white chocolate.
Divide evenly between a prepared muffin tray with paper liners.
In a small bowl, combine the coarse sugar and cinnamon before sprinkling generously over the muffins.
Bake 180C / 350F for 15-20 minutes or until a skewer inserted into the centre of a muffin comes out clean.
Allow to cool slightly before transferring them to a wire rack or into your mouth.