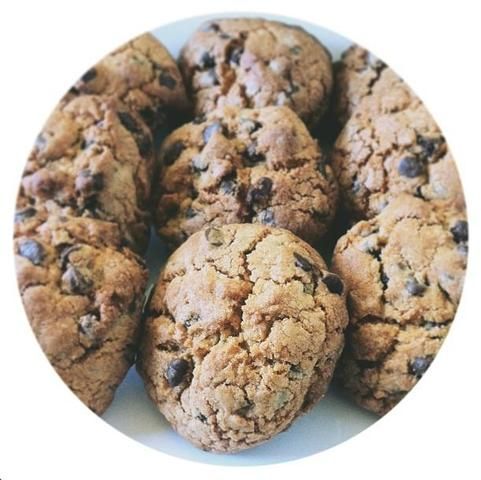 Sometimes you just cannot beat a good, old fashioned chocolate chip cookie.
And why would you want to?
There's something awfully comforting about sinking your teeth into a cookie, still deliciously warm and soft from the oven. Add a cup of coffee/tea/hot chocolate into the mixture and you have yourself one decent morning/afternoon/evening. Guaranteed.
I made these the other weekend when visiting with my Mum, and we ended up making two batches in one day because they went that quickly. I warn you now, they are terribly addictive and unless you're okay with eating your weight in delicious cookies, you should probably take these straight to work or class to share with others (which is what I will be doing tomorrow because if anyone knows me well, they know that my name and the word 'self-control' do not belong in the same sentence together).
I adapted this recipe from Allyson Gofton's 'Bake' book, and the recipe can easily be varied if you fancy something a little different. If you like thicker cookies like the ones to the left, add an extra ¼ cup of plain flour. If you prefer slightly flatter cookies like myself, simply use only 2 cups of flour. (Note: 1 cup = 1 US cup)
175g / 6.2 oz butter, softened
¾ cup / 150g / 5.3 oz brown sugar
¾ cup / 170g / 6.0 oz caster sugar
2 eggs
1 tsp vanilla essence
2 cups / 250g / 8.8 oz plain flour
1 tsp baking powder
2 cups chocolate chips
Makes 30 – 40*
In a large bowl, beat together the butter and sugars until very light and fluffy.
Add the eggs one at a time, and the vanilla essence, beating well with each addition.
Sift the flour and baking powder together over the mixture, and add the chocolate chips.
Mix softly until the mixture has come together and the chocolate chips are evenly distributed.
Scoop spoonfuls of dough (*size is up to you!) onto prepared oven trays with enough room for the cookies to spread.
Bake 180C / 350F for 20 minutes or until the cookies are golden around the edges and firm to the touch.
Place onto a wire rack to cool before spreading the love.
Enjoy!